Waxing Ashburton at R and R Skincare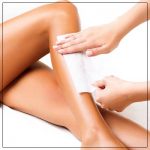 Waxing Ashburton at R and R Skincare – it happens to all of us – at some point we all become tired of shaving, and that stubble that arrives 2 to 3 days later, "ouch", the answer to this problem is waxing.  Your skin will be left silky smooth for at least a few weeks.  Temporary hair removal never got any easier than with waxing.  If you are thinking about heading in the direction of IPL Hair Removal (which we also offer – contact us for details), try waxing first to make sure this is the direction that you would like to head.
R and R have an excellent team that will guide you through your waxing treatment (especially if it is your first treatment).  We will test your skin first to make sure that you have no allergic reactions and we will keep you informed throughout your whole treatment so that there will be no surprises.  We only use premium quality wax that never gets re-used (ensuring that your health is paramount in our salon).  Continuing the safe work practices with gloves and disposable applicators – please be reassured that you are being looked after at R and R.
Our professional team is fully trained in how to look after your skin – we stress that they look after your skin as they would their own.  We use a s soft hot wax in areas that are sensitive – delivering a comfortable experience everytime.  For added comfort (during certain treatments) you will be provided with a disposable g-string.  R and R Skincare are leaders in waxing treatments.
Book your waxing appointment today at R and R Skincare – book now.
| | |
| --- | --- |
| Half Leg | $30 |
| 3/4 Leg | $45 |
| Full Leg | $60 |
| Underarm | $22 |
| Standard Bikini | $32 |
| Personalised Bikini | $45 |
| XXX Bikini | $60 |
| Brazilian | $75 |
| Regular Brazilian (within 5 weeks) | $46 |
| | |
| --- | --- |
| Lip | $18 |
| Eyebrow | $22 |
| Lip + Eyebrow | $34 |
| Half Leg + Underarm | $45 |
| Half Leg + Standard Bikini | $55 |
| Half Leg + Bikini + Underarm | $70 |
| Full Leg + Underarm | $73 |
| Full Leg + Bikini | $80 |
| Full Leg + Bikini + Underarm | $99 |
Please make sure that you check your skin before your treatment to make sure that it is not broken or inflammed as this will need to heal before your waxing appointment.  Please let us know of any beauty marks or moles in the waxing area so that we can adjust for this.
Please prepare for your treatment, hair in the area to be waxed needs to grow to about 2 – 3mm (approximately 2 – 3 weeks growth).  This males sure that it will be long enough for the wax to pick up.
Gently exfoliate the area to be waxed a day or two prior to your treatment.
Moisterise the area to be waxed up until (but not on) the day of your treatment.  This will encourage your skin to release your har.
For 2 weeks prior to your appointment please stop using retinol-based products.  If you take Accutane, please refrain from taking it for a month before your waxing treatment.
Please be advised that your skin will be a little bit red and a prickly heat rash straight after a waxing treatment – this should soon disappear and stop.
Refrain from tanning, steam and saunas or chlorinated water (swimming pools or spas) for upto 24 hours after your treatment.
Do not apply topical medications on the waxed area for 24 hours after your treatment.
To allow your skin to breathe – please wear loose clothing (pref. cotton) after your treatment.
Try not to touch your skin straight after your treatment, this avoids any infections.
To avoid ingrown hairs, ensure that you keep your skin exfoliated.
If you need to call someone please do not hesitate to phone us.