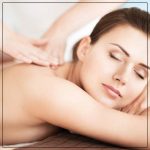 Massage Ashburton
Taking you away to a whole other world – our massage treatments are simply devine.  Indulge in a massage that aim to rebuild and reinvigorate your mind and body, giving you a feeling of being on top of the world.  Our Therapists are trained in Swedish relaxation & Specialised [IT] Institute techniques.  They will cater for you as an individual and meet your individual needs. Our massage treatments rebuild you and your body so that you are ready for whatever life throws your way.
A massage is all about YOU time as it helps to eliminate the production of stress chemicals in your body.  Each of our massage treatments will begin with an aromatic inhalation & percussion prelude – taking you away on a journey of massage delight.  We ask that if you are a new client we ask that you arrive 10 minutes prior to your scheduled appointment time – so that we can get a few details ready for your massage.
Be at one with yourself with a massage from R and R Skincare today  – book a massage now.
Relaxing Back Massage
Enhance and intensify your massage experience by adding our specialised and customised spa techniques
$50
Re-Harmonising Body Massage
Enhance and intensify your massage experience by adding our specialised and customised spa techniques
$95
Enzymatic Exfoliation
A warm exotic blend of ginger & nutmeg invigorate the body, whilst essential oils of bitter orange & madarin calm the mind. Polish, hydrate and soften all over.
$120
Hot Stone Ceremony
Pure Spa Heaven – A unique hot stone massage to re-energise your entire body. A delicious mixture of shea butter & spices are used to melt away body tension. Stimulate the body, calm the mind & create an essence of peace.
Back $75
Body $130
Customised SPA Intense – Skin Specific
Soft Scrub (Add to:)
Back $10
Body $20
Aromatic Ritual: using cream, oil, wax (Add to:)
Back $15
Body $25
Soft Scrub & Aromatic Ritual (Add to:)
Back $25
Body $45
If you have any worries or concerns please let your therapist know.
Please try to take a nice warm shower before your appointment to relax and be ready to be caressed and massaged.
Plan your massage for you into your schedule – if you feel on top of the world after a massage then plan your treatment at the start of the day on the other hand if your massage makes you sleepy and relaxed then an end of the day treatment would suit you better.
Try not to have a big meal before your massage, the feeling of being bloated or full during a massage is not very comfortable.
Please turn your phone off during your treatment, in such a busy world it can be a very big distraction.
For upto 24 hours after your treatment, please refrain from exercising or working out.
If you are hungry, this is the time for food.
Try a herbal tea or water after your massage, try to avoid caffeine as it has the tendency of tensing your muscles.